Bizarre & 50 Cent think Eminem took shots at Joe Budden on 'Chloraseptic' remix.
Eminem released the official remix of his song "Chloraseptic" last night where he took shots at his critics and haters who degraded his new album 'Revival' which released last month. The remix also features 2 Chainz & Phresher. Former D12 member Bizarre believes that Em dissed Joe Budden in his verse for disrespecting Eminem's track 'Untouchable' on Complex's Everyday Struggle show and the album's tracklist last month.
He wrote on Twitter that 'Never bite the hand feed u… I never like to do anyway chump @JoeBudden' and 'Make sure u keep up that same Energy @JoeBudden dont get Quiet now.. F*cking clown'. Joe Budden later responded to Bizarre but deleted his tweets which you can see below.
50 Cent also joined Bizarre and took shot at Joe Budden on his Instagram. Check out all of it below.
Make sure u keep up that same Energy @JoeBudden dont get Quiet now..🖕🏿 fucking clown🤡 pic.twitter.com/JDBXGU1NmJ

— Bizarre D12 (@bizarresworld) January 8, 2018
Never bite the hand feed u.. I never like to do anyway chump @JoeBudden pic.twitter.com/WRUPKr51Cp

— Bizarre D12 (@bizarresworld) January 8, 2018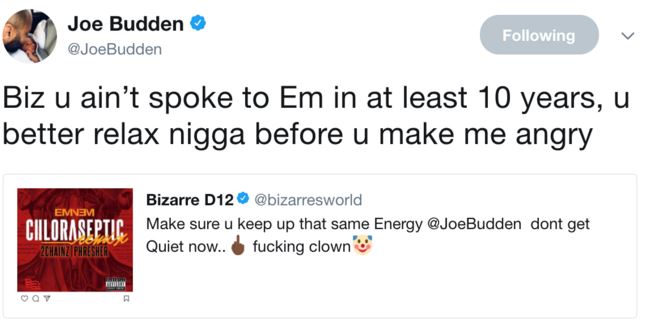 Naw I haven't.. but I spoke to mother yesterday.. pussy.. remember we smack Niggas..

— Bizarre D12 (@bizarresworld) January 8, 2018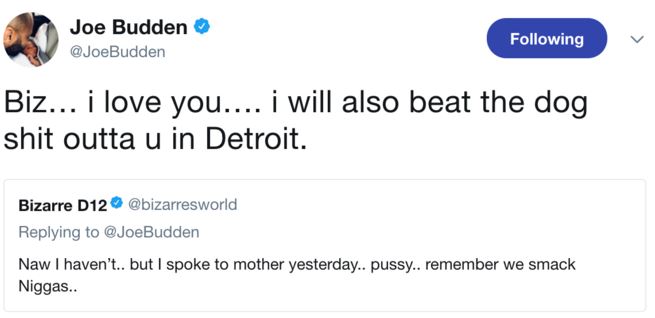 U smack me detroit.. 😂 you don't believe that yourself …all rib shoots.

— Bizarre D12 (@bizarresworld) January 8, 2018